Mobile Websites
Be in the Pockets (or Purses) of Your Customers
Figuring out how to reach the growing audience of mobile consumers is an important part of every online marketing plan. Shamrock Digital Group can help you reach customers who are using their smartphones and tablets to search, shop, schedule appointments and read their e-mail – all things they used to do on their desktop computers.
And mobile is increasingly important as an element in your social media strategy. People who act on their Facebook and Twitter messages are less likely to go back to a desktop to complete a purchase. They buy on their phone or in the store. Because of their convenience, smartphones are driving increased use of email, Facebook and Twitter.
We'll build you a mobile version of your existing website to give excellent viewing on mobile smartphones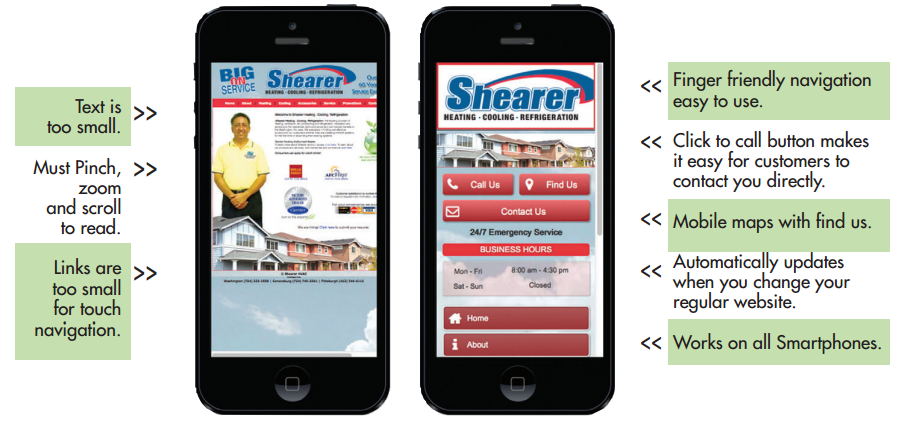 Is your business ready to take advantage of the mobile age? Consider these developments in mobile marketing:
Mobilegeddon – Google adds "mobile-friendly" to results within search and increases organic rank to websites that are mobile optimized. 

Mobile Internet usage has overtaken desktop Internet usage.
of consumers are unlikely to return to a mobile site if it didn't work properly during their last visit.
of all local searches are performed on mobile devices.
of U.S. tablet owners are using tablets to shop
of consumers use tablets to shop every day
Is your website optimized for mobile?
Contact Us to Set Up a Digital Consultation
Our digital team at Shamrock Digital Group can help with online advertising, digital marketing services like social media management, SEO and more.  Contact us to set up an appointment at your location.